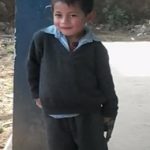 Kevinson Nongrum
Kevinson Nongrum  is a resident of Nongkynrih village under Khatar-Shnong Block, East Khasi Hills District. The village is about 15 kilometers away from the Block Resource Centre. He is an 8yrs old boy and had never been to school. He was identified as having Cerebral Palsy (Athetosis) by the Block Resource Person (IE) who visited his resident in the year 2015 February, after knowing from the neighbours about his condition. The BRP (IE) asked his parents about his not being admitted in the neighbourhood school, despite of his intelligence, but because of his condition, his parents thought that he will never be able to go to school. He had delayed developmental milestones and was able to achieve independency in walking recently, at the age of 7.
After a brief discussion with his parents regarding the work of the SSA and about inclusive education, they were made aware about the importance of Inclusive Education  and that their child should be enrolled in a regular school like other normal children. The father looked hesitant to send him to school, but the mother liked the idea very much, she had wanted her son to be in school like other children. Thereafter, a program was fixed where it was decided that he will be given intensive home based education and school readiness program for a period of six months and after that he will be mainstreamed in a neighbourhood school.
Without any delay, the BRP,IE started visiting his resident for giving home based education, at least twice a week to make him ready to be enroll in school. During the visit he was firstly assessed in the following areas.
Behavior
Language and Communication
Self-care activities
Early Learning Skills
Motor skills
This program continued for a period of three months and he was visited on a regular basis by the Resource Teacher. After three months, he had learnt some skills like recognition of few alphabets and numbers, could identify two common colours by pointing. He had also learnt to identify major body parts at semi-concrete level, he can hold a pencil and scribble on a paper with physical help.
In June 2015 he was enrolled in a regular school in the neighbourhood – Nongkynrih Presbyterian Lower Primary School which is an SSA school, and according to his condition he was placed in a pre-primary section where he was to be given School readiness program for a period of six months.
After being enrolled in school, it was observed that he shows great interests in going to school, he is very keen to learn and can adjust with his classmates, his classmates always help him whenever he needs help. The teachers of the school are also very supportive and always seek advice from the BRP whenever required.  The Block Resource Person (IE) visited the school on a regular basis to train the teacher on various activities to teach him, to follow up on the education, to check the performance in school and the level of achievement and his progress.
After six months of receiving school readiness program, he has improved a lot in various Pre-academic skills, which includes pre-reading, pre-writing, pre-maths activities and in self- help skills in which he has shown improvement in feeding where he is now able to feed himself independently in school. He is now mainstreamed and is placed in class I in the year 2016. Follow up will be done by the Block Resource Person (IE) to help the teachers on different skills and activities to teach him, which will be according to his needs and his level.