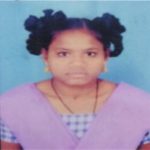 Pallala. Lakshmamma
SUCCEESS STORY OF PALLALA. LASHMAMMA
KGBV – MAREDUMILLI –   EASTGODAVARI
About : Pallala. Lakshmamma:
She is a State Level Participator in
Athletic , she was born on July 14th2003
in the Village of Chapa rai, Y.Ranavaram
(Mandal) , East Godavari District.

Family Background : She is the Daughter of Pallala. Kannam Reddy, he is a farmar, his wife Pallala. Somalamma, Agricultural Labour.
Achievements
1.  AP-C.M-CUP-District Level Sports Meet
She had participated AP-CM-CUP – District  level  Sports meet  she got 1st place in Javelin throw on 5.11.2018 in Kakinada,  DSA  Ground.
2. She had  participated  AP-C.M- CUP- State level  Sports Meet, she got 3rd place In Javelin throw   on  9.11.2018 at Layola Hlgh School  Vinukonda in Guntur District .
3. She got 1st ,2nd Places and participated Certificate in District, State and National Levels in 2017-18.
Message: Give respect to everyone .Never ignore anyone .Focus on your career