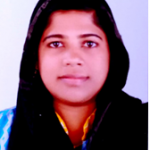 Hafeefa. P. P
I am a Practicing Teacher in Preschool Education.  Samagra Shiksha Kerala has implemented various schemes to strengthen Preschool Education. During 2019-20, SSK had introduced a Twinning Program, which helped to understand the best practices in Preschool Education.  This program has helped to empower the academic activities and improvise the academic excellence of preschooling education with the support of State Government.
Samagra Shiksha Kerala had provided financial and academic support for setting up of a theme-based activity corner as well. Training at different levels was also conducted for this activity corner programme. With these activities, the physical and mental development of the preschool children was enhanced and they were able to joyfully and independently handle the corner activities.
"Kalithoni" and "Kalippattom" are the sourcebooks, which are a complete workbook for teachers and children of Preschool category. Samagra Shiksha Kerala ensured to take up an initiative to provide both these sourcebooks to all the learners and teachers and also conduct a training program with the help of SCERT and DIET.
I would personally like to appreciate all the work and diligent effort that Samagra Shiksha Kerala has showcased for the success of Preschool Education.
Success Stories & Best Practices of SSA Tripura, 2016-17 (SC7301)
Monday, 24th Jul 2017
'Srujana' – A Programme for Colourful Classroom (SC6678)
Tuesday, 18th Jul 2017