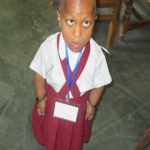 Nisha Paul
Nisha Paul was born in a poor family on 1st March 2007, at East Radhapur village of Jubarajnagar Block situated in Dharmanagar, North Tripura District. She is the elder daughter of her family. At the time of birth she was born through surgery and looked like a normal baby. But at the time of her 3 months of age, her mother noticed her feeding problem and went to the doctor. The doctor told that she has cleft palate and having large head due to some deformities.
Due to these initial hiccups, she was having some speech problem and as well as her motor development also got affected. She is looking like a Dwarf girl. The doctor told them that she is not curable. Her parents were not aware about her condition. Her mother had no confidence that she could go to school because of her locomotor problem and decide not to send her to school.
Fortunately, during 'Vidyalaya Chalo Abhiyan' one teacher of Radhapur S.B. School, IE personnel of SSA counselled her parents and requested them to send her to the school. At 7 years of age Nisha got enrolled at Radhapur S.B. School situated near her house. After enrolment in the school all the teachers and Students of the school helped her a lot to get adjusted in the normal course of study. Two trained teachers (disability field) took remedial classes for her. Resource Teachers also gave support to her periodically. Their peers in her class were also helpful to her and allowed her to play with them.
At present Nisha is academically competitive, socially very friendly, calm, cheerful and attentive girl. She tries to follow all the instructions in the classes. Her handwriting is also good. She can read and write sentences independently. Teachers help her in reading and writing. At home her social interaction is also good.
She has also learnt 1-100 and can write her name, father's name, school's name, in English and Bengali. She got 67% marks in last Annual Examination. She has participated in recitation in the cultural programmes of the schools.