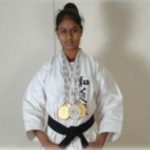 Nilam Dashrathbhai Rathva
Nilam comes from a very poor family living in the most backward area in Chota Udepur district, her parents work as a laborer in farm to fulfill her family needs. At the time of admission in Pochamba KGBV of  District Chota Udepur in 2011, she was shy and conservative in nature. She is brilliant students as well as had multiple skills but her skills never came out.
To make girls more independent and fearless all KGBV schools organize in-house karate training with trained and experienced trainers. This training helps girls to strengthen their self-defense. Her karate training started from August 2012. At that time she was studying in class 6. She trained herself very hard and it resulted in her winning and she received two gold medal in national tournament of Kata and Kumite in 2012. Also, in 2013 she won one gold medal and one silver medal in another national tournament.
But one of the biggest and important achievement of her life is that she received Instructor license and 1st DAN Black-belt certificate from WADO-RYU KARATE DO FEDERATION OF INDIA (WKFI), which will help her to be employed as a coach in any training academy.
In 2014-15, she got second rank in national tournament of Archery. In addition to this,  she is leading girl in Drawing competition, Mehandi competition as well as Music competition. Presently, she is studying in Std. 10 in block Umarpada, KGBV Bilvan, District Surat.
Nilam is a great example for every girl child in India. In an interview she said that 'Her dream is to become PSI in her career'.