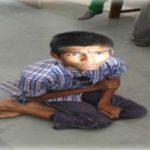 Singal Divyesh Batukbhai
Singal Divyesh Batukbhai is a boy studying in standard -4th  in  Shree Vinoba Bhave Primary School  No. 93. In 2012 during the door to door survey in Ambedkar nagar we found out that the Divyang Child was not in any contact of School. His parents believed that this child cannot get education like other children. Resource teacher Dharmishtha counseled his parents.
Divyesh is MR + OH disabled child. He cannot come to school without help. Initially, his parents were coming to the school to drop their child. School teachers, resource teachers planned and provided necessary support to the parents and Divyesh by providing appliances and transport /escort allowance.
In the beginning Divyesh was not involving himself in any activity but after a month child was engaged in the life skill based learning activity. From SSA – IED, he also got a tricycle and after six months he can drive it alone.
Since last two years he is coming school on his own without any help. He also participates in all Educational and other activities through peer and teachers support.