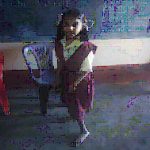 Shafina Y
Type of Disability:        MD
Aid Provided:      Wheel chair
CWSN Child Shafina Y d/o Yousuf was a MD Child. She was not able to do her work properly and she was suffering from multi disability syndrome.  She was been identified by our IRTs and was given training for 3 years. In the beginning, from 2010 to 2013 this child was under HBE and the volunteer looking after this child was Shilpa. Physiotherapy was done by Shilpa and Parents. Now she has been admitted to HPS Nehru Nagara Sagara Block in the year 2013-14.
After the identification and treatment she has changed drastically. First she was given home based training and after noticing her performance, she was brought in to School based training. In school based training she was taught of daily life skills like, identifying the materials, identifying colours, playing with toys, using toilets, writing alphabets, reading small words  and saying small rhymes.
From 2013 to 2015-16 she was coming two days every week for school. From this year 2016-17, she is coming to school regularly.  Now she can do her work on her own. Parents are also happy with the development she is showing. They are also actively participating in her training. Today she is participating with all children in daily activities.