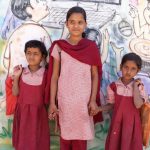 Pallavi Kadam
Pallavi's parents work as sugarcane cutters and migrate for 5-6 months in a year to other region in the state. Due to regular migration, her education suffers a lot. But 13 year old Pallavi has found a way out of this problem.
She wants to study medicine and therefore has to focus on her studies. She does not like to miss her school. So, when the parents migrate for work, Pallavi stays back in their tiny house in Dhondarai with her two younger sisters – Roopali (Class III) and Kishori studies (Class II).
In the parent's absence, she takes care of her home and also looks after her siblings. The three sisters stay together and support each other.
Pallavi says "Since last three years my parents go out for sugarcane cutting. I look after my sisters in their absence. I stay back because I don't wish to disrupt the education. I send my sisters to school and then I leave for my school. I go to the school daily and study regularly. I am studying in Class VII. I want to become a doctor and give service to people. I wish to make my parents feel proud of me."
Her passion and determination to study and to educate her sisters is remarkable. Her class teacher Mr. Pandhare says, "Pallavi is a student of this school since Class V. She is bright and well-mannered. Migration is a major problem in our state, which discontinues education of children. In this context, Pallavi's story is inspiring and shows a way out of problem."