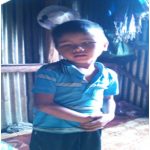 Bijenstar Umsong
Bijenstar Umsong was born on the 22nd of February 2009. His father Motor and his mother Baiarlin Umsong are both cultivators. He has 2 brothers and 1 sister but he is the only child with an impairment. He was born as a normal child but for reasons unknown, his eyes got swollen up when he was 6 months. Parents consulted many doctors and was under treatment but eventually became blind.
It was on the 24th of February 2016, his local guardian who was teaching in a school introduce him to the special educator of Pynursla block. With the willingness and support of his parents, Home Base Education was provided to him at least once in two weeks. Sensory training technique was taught to the boy using the sense of touch and smell. Tactile materials having different texture and different objects were given to identify.
It was on the 1st of April that Bijenstar Umsong was enrolled in Wahlyngkhat LPS, Pynursla Block. The teachers were happy to have him but at the same time doubtful if they could fulfill his needs. But with the support of SSA, the Resource Person and the support of his family as a whole it was much easier for the teacher. She followed the strategies provided to her and work diligently using the aids provided to her by us, to help him in the learning process.