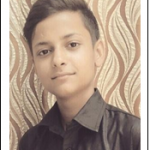 KUNDAN TIWARI,CHANDIGARH
GOVT MODEL HIGH SCHOOL 20 D CHANDIGARH (CLUSTER NO – 7)
Details of case History:-
 Name                             :         Kundan Tiwari
Father Name                   :         Sanjay Tiwari
Mother Name                 :         Madhu Devi
DOB                              :         06/06/2006
Year of Admission         :        2012
S.T.T                             :         Mrs. Nitasha
Introduction :–Kundan Tiwari is a 11th class student who is working very hard to achieve success in life. He is a dropout student and was admitted in Govt. Model High school sector 20 Chandigarh in year 2012. He was very inquisitive and hardworking child. We taught him IIIrd and IVth curriculum. Because of his zeal and disciplined nature, he was able to complete the syllabus of two classes with in a year and mainstreamed to Vth standard and that too good grades
Challenges :- His father is engaged in private work and his mother is a house wife. He has two elders sisters. He is the only son of his family. He became focused towards studies and understood his responsibility towards his family.
Evaluation of the case:- Some of the major objectives of Samagra Shiksha (Sarva Shiksha Abhiyan at the time of case history) are as fellows.
To provide useful and elementary education for all children in the age group of 6-14 years.
Program with a clear time frame for universal elementary
Focus of elementary education of satisfactory quality with emphasis education for
To bridge social, regional and gender gaps with the active participation of community in the management of
Universal
The subject of our case history, Kundan Tiwari has achieved all the objectives very gracefully.
Achievements: Kundan was multi-talented child. In school, he joined Nation Cadet Corps. During this period, he attended two NCC Camps and got "Grade A" certificate in the year 2019. He is very good in studies as well as in sports too. He joined Judo in G.M.H.S – 20 D and participated in state level competition and won 2 silver and 1 Bronze medal. He is an all-rounder student and participated in Chandigarh Theatre workshop organized by Chandigarh Sangeet Natak Akadmi and acted gracefully. In 2015-16, he also-participated in Bhartiya Sanskriti Gyan Pariksha and bestowed with certificate.
Role of Teacher:- He was a dropout student. It was challenging for teacher to cover up the syllabus of two classes with in a year but taking helps from various digital and modeling aids teacher covered the standard syllabus with in one year. Teacher also motivated and encouraged him to face all the hurdles of life in a very systematic and focused manner.
Take away from the case: – What we, as teachers, learnt from his case was that though extra work is needed for OOSC, but with consistency in efforts on the part of teacher and usage of right tools (online and off line aids), success can be achieved. An OOSC not only required help in academics but also proper counseling. Ultimately hard work pays off.
Thank you