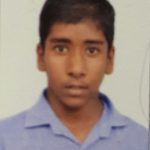 Yogesh
Yogesh, a bright student, had to discontinue his studies as his family migrated to Chandigarh in search of work. After migration their priority was to earn for their basic needs.  Due to these circumstances, Yogesh missed on his studies for a very long time, but he never stopped dreaming. As soon as his father got a job, Yogesh requested his parents to admit him to a school but due to non-availability of documents, he could not take admission in the school.
Somehow, they met a Special Training teacher at Govt. school of  Manimajra Town and due to the efforts of the teacher, Yogesh got admission in GSSS-MMT on 25th July, 2015.
At the time of admission he was good only in Hindi but did not know Punjabi at all and was weak in English too, which was a big challenge ahead. He was not very keen in co- curricular activities or socializing. But due to his unshakable belief and his ambition in life to rise from the shackles of poverty and become an engineer, and due to his tireless efforts, hard work and the efforts of teachers and school, he was mainstreamed in class 7th and is doing very well academically.
Sarva Shiksha Abhiyaan is doing a wonderful job by creating opportunities for students like Yogesh to dream and also to fulfill their dreams.