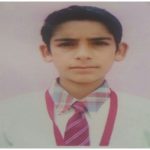 Vivek Sharma
Vivek Sharma  a student of  class 8th  in GMS Rugra District Solan, belonging to a BPL family. He is from a very poor back ground and have to help his parents in the morning and evening. Fetching grass for the cow daily at 6 AM and helping her mother in cooking in the evening did not stop him from studying. He studies till late night and is a voracious reader of the library books. He is very sincere and talented student. He got 89% marks (grade-A) in class 8th .
He is also good at co curricular activities. He participated in the State level painting competition on Energy Conservation under national campaign on Energy Conservation 2016 organized by the Ministry of Power and got the cash prize of Rs. 2000 at the state level. He also participated in the National level painting competition on Literary Arts organized by Centre for Culture Resources and Training, New Delhi under the Culture Talent Search Scholarship Scheme, 2017-18 in the field of Indian Art and Culture for the age group of 10 to 14 years in the month of December, 2016.
He has participated in quiz competition under Children Science Congress at block level and got 4th position.
He also got selected in the National Merit cum Means Scholarship of Ministry of Education organized by SCERT,Solan and got 6th position in district Solan.