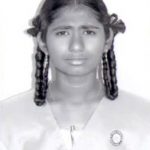 S. Razia Begum
S. Razia Begum is the youngest of four children of her parents Nassin Banu and Khader moddin. Her parents are coolies. She used to go to coolie support her studies. Inspired by the Campaign programme conducted by the
teaching staff of KGBV Kallur she joined in the school in 7th class. With the encouragement of the staff of the KGBV Kallur, she stood first in studies and in games.
She has won gold medal in the state level running race for the first place. She has secured 7.5 points in SSC examinations 2015. The Special Officer and CRTs encouraged her to write Polytechnic and APRJC entrance  examinations. She was selected in APRJC and is studying CEC Junior Inter.
As intermediate student also she is participating in sports competitions. Her role models are Sania Mirza and Saina Nehwal. She wants to become an officer in Army and to do service.