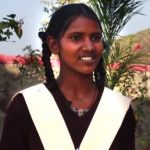 Kali Bairwa
Drop out after class 5, Kali Bairwa from village Himmatpura, Lakheri belongs to economically poor family. She belongs to schedule caste and her father was alcoholic. Due to the socio-economic constraints she was made to leave school for grazing of goats and other labour works.
In 2009, eight girls from her village got admission in KGBV Lakheri. When girls came back to visit their home, I was impressed with the change occurred in those girls – in terms of dressing, behavior, health, etc. I voiced my desire to study again. In June 2011, based on the information provided by other girls of her village, school headmistress came to my village and paid a visit to my home. Ms Uma Handa convinced my mother but my father scolded her under influence of alcohol. But Ms Handa patiently handled the situation and convinced my father as well.
In 2011, I got admission in KGBV and got a platform to excel in different field. Today I am state level badminton player in KGBV tournament and secured first place in single and double badminton in 2013. Besides, I also made my place at first rank in volleyball tournament of KGBV. This has given me immense self-confidence and I dream to bring fame to my country like Saina Nehwal.