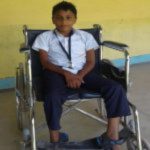 Muad Rukunudheen MM
I have been studying at Govt Senior Secondary School Kavaratti since 2015 and now I am in 8th standard. I was
not in position to do anything without support of others, but my father and mother motivated me. My father brought me to school every day and at school my classmates and teachers helped me to do all kind of works.
When I was in 7th standard, the teachers arranged a wheelchair for my movements from class as well as outside. My teachers encouraged me for participate in more activities and  all my classmate are always helping me to move through wheel chair. If I am alone at my class, some of my classmates are staying with me till my father reaches. My teachers are contacting my father if any special events and any matters for providing care.
I am very much grateful to the SSA Mission Lakshadweep for their constant support to my education. They encouraged me to participate various competition held in connection with World Disable Day and other events. I am
proud to record that I have got prize in Singing competition organized under SSA Mission.
Escort allowance of Rs.2500/-has received for the academic session 2016 to 2017 and previous years. Ms. Naseera. K.C and Najeeba Beegum R.M Resource Teacher for CWSN under SSA Lakshadweep gave constant support to improve my learning. During the period of my seventh standard my class teacher Mr.Mujeeb sir presented the special price for best assistant who helped me sincerely.